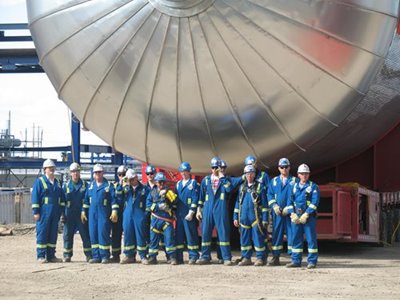 When Petro-Canada elected to convert its Edmonton Refinery from a conventional crude configuration to one that upgrades and refines oilsands bitumen, the company called on Bantrel. We began front-end engineering work on the conversion in 2004, and in 2005 were awarded the full EPC scope for six of the seven units associated with the project.

Bantrel's scope included the addition of a new 83.5k BPSD crude/vacuum unit and a new 16k BPSD delayed coker unit, as well as facilities and infrastructure, utilities and offsites, various plant revamps and plant-wide automation. The revamps included a 47k BPSD ULSD hydrotreater and a 25k BSPD naptha hydrotreater. The refinery now processes bitumen-based feedstock from oilsands into gasoline, diesel, jet fuel etc. at a rate of 135,000 BPD.

The construction phase of the project, executed by Bantrel Constructors Co. (BCC), began in the spring of 2006. At peak construction, the project employed 4,500 craft and 300 field construction management workers. Our workers installed more than 370,000 feet of pipe and 6,300 tons of steel at the refinery. Bantrel completed this project on schedule in October 2008.
Services Provided
Engineering
Procurement
Construction
Completed By