Bantrel is an industry leader, and we recognize the value of innovation to our offering. With the development of Bantrel Innovative Solutions, we are re-imaging the future through our people. With unique and creative offerings including our own in-house developed app - Bantrel ConX, that provides integrated customizable and mobile construction management applications, to 3D, 4D and immersive VR model reviews, Bantrel is focused on methods and technologies that benefit and advance the industries we serve.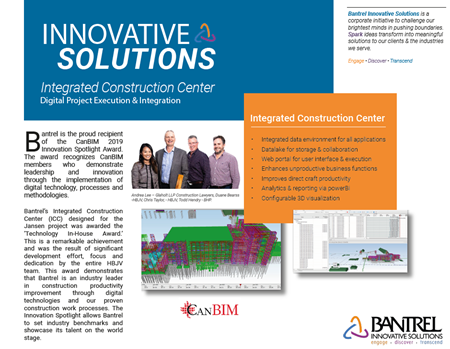 Bantrel Awarded the CanBIM 2019 Innovation Spotlight Award
Bantrel was awarded the CanBIM 2019 Innovation Spotlight Award, for centralizing and integrating construction data. This delivered a step change improvement to our advanced work packaging program as well as significant gains in our construction productivity execution.
Our Approach: Improving the way we deliver
Our colleagues are encouraged to submit ideas to the Bantrel's Innovation Team. By collaborating on Innovation we maximize the number of ideas that come forward and foster a culture of continuously challenging status quo. Each idea is challenged, evaluated and prioritized for implementation. Our goal is to develop those ideas into practical solutions to use on projects for the benefit of all our clients.
Collaborating with Industry
Bantrel has initiated a series of Innovation Summits where we bring together our clients to discuss where their vision of the future is. By understanding what our client's goals we are better suited to help them achieve that vision.
We have also met with promising start-ups to review their innovative technologies for potential use on projects. Augmented and virtual reality to allow operators to stand in the plant before is even built. 4D planning allow engineering and construction visualize the construction sequence to identify more efficient pathways to the facility operation. Big data and artificial intelligence speed up the way we access data. Technologies are continuously improving safety, quality and cost-effectiveness.
Home Grown Solutions
When industry hasn't gotten there yet Bantrel pushes the envelope. Development of homegrown solutions to automate the way we do business and digitize data so that is accessible throughout the life cycle of a facility. From conceptual design to construction quality to commissioning and start-up the amount of data that is generated is astronomical. By digitizing all that data, it allows our teams to collaborate more effectively. It also has the added benefit to operations and plant engineering who can quickly access all key pieces of information on a specific item within their facility.