Bantrel is a leader in our efforts to support our communities, and our employees have demonstrated their personal leadership qualities through volunteerism, corporate philanthropy, and their commitment to these initiatives. We can't overstate it: Bantrel's greatest asset has always been and will continue to be, its people!
Throughout Bantrel's 37 years, our companies and employees have donated generously to support our communities and those less fortunate. Some of the key initiatives/causes that Bantrel has and continues to support include the following:
United Way
Enbridge Ride to Conquer Cancer
MS Society of Canada

Red Cross
The Cure Foundation
Spruce Meadows
United Way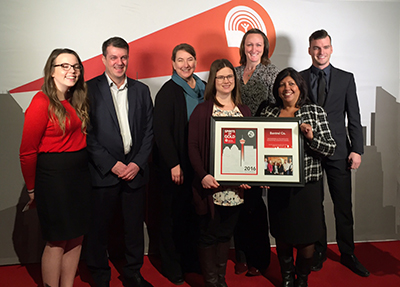 Bantrel and its employees have always rallied behind the annual United Way Campaign. Since 1993, Bantrel has donated over $6.8 million to United Way agencies across Canada.
In 2016, Bantrel was awarded the Division Recognition Award in the Engineering & Technology category from the United Way of Calgary which is given to organizations that have exhibited strong management support, a significant increase in Leadership Giving and total donations, a surge in employment engagement, or have taken a fresh and innovative approach to their United Way campaign. All candidates must also embody United Way's philosophy of community impact.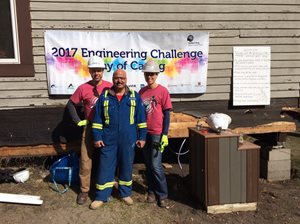 Since 2015, Bantrel has also participated in the United Way, Annual Plane Pull event. A team of exactly 15 participants gets one opportunity to pull an Airbus A300, weighing over 190,000 pounds, 50 feet across the tarmac. The goal is to be one of the fastest teams. Over the last 3 years, Bantrel has generously donated over $5,000 for this event alone.
The Engineering Challenge is an annual event executed in partnership with the United Way of the Alberta Capital Region, where the engineering community comes together to challenge each other to strengthen communities across the region. While the Engineering Challenge promotes friendly competition within the engineering community while fostering sharing and advancement of best practices for each company's campaigns, its primary focus is to collectively make a significant impact in our community by undertaking a Day of Caring community project. The Edmonton office has completed 12 of these projects and was also awarded the United Way Engineering Challenge winners in 2016 and 2017.
Enbridge Ride to Conquer Cancer
From 2013–2017, Bantrel was a Peloton Partner/Sponsor in the Enbridge Ride to Conquer Cancer (RTCC), which included a corporate team of registered riders, as well as Bantrel volunteers hosting one of the Pit Stops for riders along the course. This two-day bicycle trip is a monumental task, directly supporting the patients and families utilizing Calgary's Tom Baker Centre and Edmonton's Cross Cancer Institute. Bantrel employees from across the province have participated and volunteered in this life changing event. The ride kicks off in Calgary, heads west through the Rockies, loops around the town of Okotoks, and ends back where it began.
Over the five years, Bantrel employees and family members have ridden over 20,000 kms and have raised over $200,000 in the fight against cancer.
In 2016, Bantrel was the recipient of the 2016 Enbridge Ride to Conquer Cancer Industry Challenge Award as the top fundraiser in its category. This award highlights the hard work of all the Bantrel riders (pictured below) and volunteers, as well as the generosity of the donors who helped make the ride a success.
MS Society of Canada
Since 2018, Bantrel has had a group of employees participate in MS Bike, which is also a two-day bicycle ride stretching over 180 kms from Airdrie to Olds and back. Since 2018, nearly $10,000 dollars has been raised and donated to MS.
Red Cross
Bantrel has always rallied together and continues to join in the ongoing efforts to help those impacted by devastating events and/or natural disasters. To name just a few: the floods in Calgary in 2013, the wildfires in Fort McMurray in 2016, and in British Columbia in 2017, as well as the devastation caused by Hurricane Harvey that closed the Bechtel office and affected our colleagues in Houston in 2017.
In 2013, a total of $45,692 was donated to the Canadian Red Cross, Alberta Flood Relief Fund which included an employee contribution and corporate match program. Adding to this total, the Bechtel Group Foundation donated an additional US$25,000 to the Canadian Red Cross. During the 2015 wildfires in Fort McMurray, Bantrel made a $25,000 donation to the Canadian Red Cross, along with employee contributions.
Spruce Meadows
Bantrel has also been a long-time and proud supporter of Spruce Meadows. Since 1994, Spruce Meadows has held the Bantrel Cup during the Spruce Meadows Summer Series, the "National" Tournament, usually held during the month of June.

Ronald McDonald House
Bantrel has participated in the Meals that Mend program at the Ronald McDonald house in Edmonton. This employee-driven initiative has hosted brunch for the guests staying at the Ronald McDonald house every quarter since 2015.
Heart and Stroke Foundation Big Bike
The Edmonton office for the last 15 years has participated in the Heart and Stroke Foundation Big Bike. Riding a 30-person bike around Hawrelak park to promote good heart health. Over this time, Bantrel employees have raised over $75,000.

Holiday Product Drives
Throughout the year, Bantrel always makes an effort to bring the Holiday spirit to those less fortunate. Every year, the Edmonton office holds product drives for Santa's Anonymous, the Food Bank, and the Mustard Seed. The Calgary office has held Food drives as well as the Angel Toy Collection.