At Bantrel quality is everyone's responsibility!
Bantrel leadership proudly consider quality as one of the company's core value and we all strive to provide confidence and to demonstrate our ability to consistently provide products and services that meet and exceed client requirements.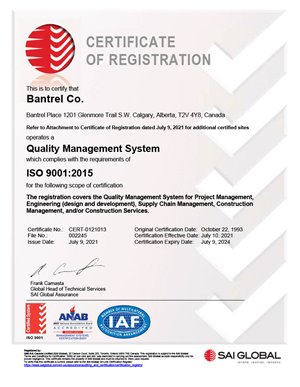 Our Quality Management System has been continuously registered to quality management standard ISO 9001 since 1993 and is currently registered to ISO 9001:2015.
Our Quality Management System is integrated, encompassing Engineering (Design and Development), Supply Chain Management, Construction Management, and Construction activities processes.
People Based Quality
Bantrel's program People Based Quality (PBQ) focuses on recognizing and supporting human behaviours that result in "right the first time, every time" implementation; We call them Quality Absolutes. Implementing our Quality Absolutes improves our performance and drives our culture around quality.